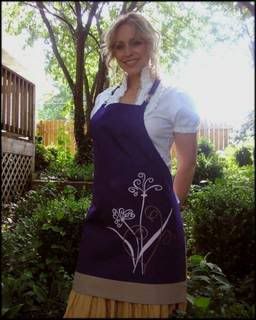 With the holidays approaching, there will be plenty of opportunities for hosting family gatherings, cooking and entertaining. If you are searching for that stylish accessory to your wardrobe, you must check out Apronique. It is a unique collection of contemporary aprons that reflect today's fashion trends. Each apron is made with high performance fabrics with impressive designs.
Apronique's newest apron line is my favorite because it features reversible 2-in-1 aprons constructed from stain repellent fabric in a variety of hip & trendy designs. I recently used my Royal Bouquet apron as I prepared for a dinner party at my home. It was very comfortable to wear and draped nicely against my clothes. My girlfriends immediately asked where I found it and raved about how chic my apron looked. The best part is I can reverse my apron and have a new look at my next dinner party
Prices start at $34.99 and gift certificates are available. Custom design, logos and monogramming is also available at an additional charge.
Head Mommy's Note – If only Tamika told me sooner I would have purchased one of these for my mother than the one from Williams Sonoma.